Skip to Content
We Treat Sports Injuries in Sandusky, OH
Anyone involved with sports has most likely experienced some form of sports-related injury over the years. Even the most minor injuries can have a significant impact on your ability to perform on the field, court, or track. If sports are a central component in your life, you deserve efficient medical care from a team you can trust. By seeking medical attention at Sandusky Walk In Clinic as soon as possible, you can protect your long-term sports career. Our team of medical experts is ready to provide the specialized care you need so you can return to the activity you love. Stop by our Sandusky walk-in clinic or give us a call today to schedule an appointment.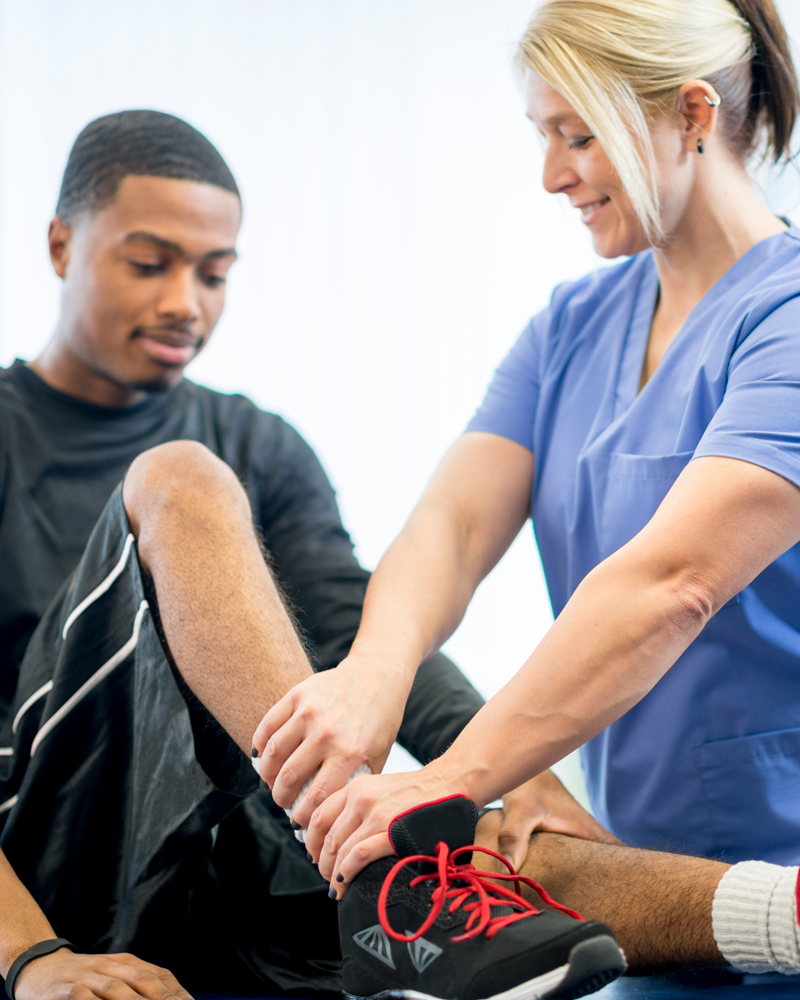 Providing Effective Solutions for a Wide Range of Injuries
If left unaddressed, you may be forced to stay out of the game for longer than needed. Our state-of-the-art technology allows our medical staff to properly diagnose and treat a wide variety of health conditions. We have experienced specialists on-site to help you find a solution for sports-related injuries, including the following:
Concussions
Tennis Elbow
Sprains and Strains
Shin Splints
Achilles Tendon Injuries
Fractures and Broken Bones
Anterior Cruciate Ligament (ACL) Injuries
Dislocated Joints
Rotator Cuff Injuries
Swollen Muscles
Follow the R.I.C.E Method to Treat Minor Sports Injuries
If your sports-related injury does not need immediate medical attention, you should still take proper steps to treat the affected area. The well-known "R.I.C.E." treatment method can help relieve pain, reduce swelling, and promote quick recovery for minor sprains and strains. By following these steps for the first 48-72 hours after the injury has occurred, you'll be back in the game as soon as possible:
Rest
You should avoid moving the injured area for the first 24 hours, no matter how inconsequential the movement may seem. Sprains and strains are the most vulnerable during these first few hours, so they should be left alone to heal properly.
Ice
Using a bag of ice covered in a thin towel, you should ice the area for 15-20 minutes to help reduce pain and swelling. Repeat this step every 4 hours for the first 48 hours after your injury occurs.
Compression
Wrapping an injury with an elastic medical bandage for 48 to 72 hours can help to decrease swelling and promote healing. The wrap should be snug around the area, but not so tight that it leads to numbness, tingling, or additional swelling.
Elevate
While you rest, the injured area should be elevated above the level of your heart in order to minimize swelling and prevent fluid build-up.
Our Team of Highly-Qualified Professionals Is Here to Help
If you are concerned about the progression of a minor sports injury or feel that you need immediate medical attention, do not hesitate to reach out to Sandusky Walk In Clinic for assistance. We have helped many athletes recover from painful injuries over the years and are ready to help you with all of your medical needs. Whether you stop by our walk-in clinic or schedule an appointment, we guarantee our team of professionals will provide you with proper treatment for your injury. Contact us today for the top-quality medical assistance you deserve.
Schedule an Appointment Today!